Alaska Home Builders and Construction Contractor
As one of Alaska's premier custom home builders, Scenic Builders LLC works hard to earn your trust and loyalty. We take the time to discover your exact needs and specifications and then work hard to meet them on time and on budget.
Building a home can be a wonderful experience if you have a home builder who knows how to work with you to achieve your goals. We have years of experience building Alaska homes and cabins and we understand how to make your home unique and special.
We hope you will choose Scenic Builders LLC for your next Alaska custom home.
Custom Home Builders
We design and build custom homes in Wasilla, Palmer, and the greater Anchorage and Mat-Su Valley. As custom home builders we strive to make each home truly unique and specific to your individual needs.
As custom home builders, we strive to meet your expectations on time and on budget. As part of our customer service we are happy to provide a free consultation to discuss your specific plans and ideas for your Alaska dream home.
Our experienced home builders have decades of experience building custom homes.
We Offer Many General Contractor Services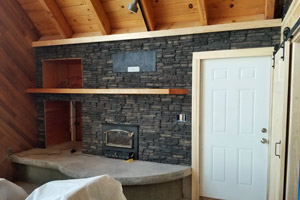 Our Home Remodeling experience ranges from kitchen or bathroom remodels, to room additions, changing out windows or siding and just about any type of home remodeling need.


We take pride in our finish carpentry work and strive to create beautiful looking trim for your home, business, or recreational cabin. Our attention to detail and craftsmanship are clearly seen in our finished product.


Granite countertops are our specialty and we will work with you to determine the best material, design, and look that will give you the kitchen or bathroom of your dreams. Our granite countertops are custom cut to fit perfectly into your space and finished with skill and craftsmanship.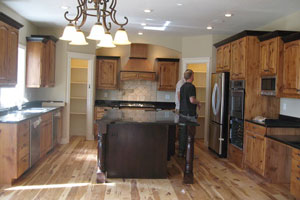 We can install all popular wood and laminate flooring options in your home, business, or cabin. Our years of experience in flooring types and uses are a valuable asset to you when picking out the right materials for your application.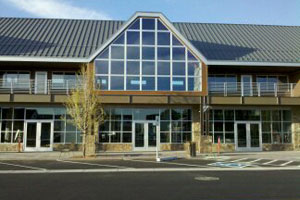 Scenic Builders LLC has the experience to handle jobs of all sizes. We have decades of experience with general construction projects in the greater northwest and Alaska.
Our experienced crews can tackle almost any general contracting job or commercial construction project. We are always happy to provide a free consultation to discuss your specific project.
As part of our comprehensive list of service we also provide excavation and dirt work to prepare for landscaping services for your residential or commercial properties.
Our experienced excavation and dirt work crew can help you make your yard or property look the way you want before you bring in your finish landscaping. Quality landscaping service can increase your property value and curb appeal.
Serving Wasilla | Palmer | Big Lake | Eagle River | Anchorage
907-414-8223