Granite Countertops
We offer custom granite countertops fabricated and installed by Global Granite LLC., a partner of Scenic Builders LLC. Global Granite was established in 2007 and has installed granite countertops in Idaho, Wyoming, Washington, Montana, and Alaska.
Now, based only here in Big Lake, Alaska, they work hand in hand to make all projects as affordable as possible without sacrificing quality. Were able to create finishes from machine precision down to custom hand crafted finishes, which can make your home have a personal feel that will express your personality. Your home is your sanctuary and we can make the improvements that help add value and preserve your dreams.
Custom Granite Countertops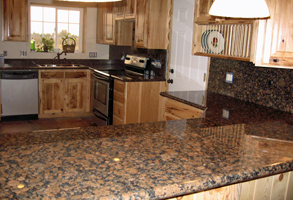 Kitchen Countertops
Granite Fireplaces
Bathroom Countertops
Granite counter tops provide a beautiful finish to your bathroom and kitchen cabinets with matching backsplash or tile. If your building a new home or remodeling your existing home, you owe it to yourself to look into granite counter tops, our installation crew comes to your home fully equipped to cut, fit and finish your granite counter tops right at your home, this insures your counter tops fit your cabinets and built ins as they should, ensuring a high quality finish to all your cabinet and counter top needs.
If you would like to schedule a free consultation to go over design and material options for kitchen and bath countertops, please give us a call and we will be happy to meet with you.
Custom Granite Countertops